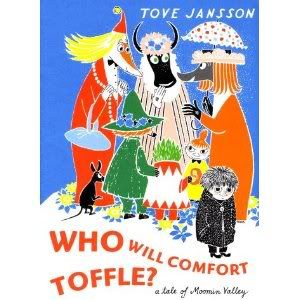 A friend of mine gave me this book to read last night. We have a shared appreciation of children's books, and although I know the Moomin Valley and its creator Tove Jansson, I had never actually read this (probably most famous) edition.
Safe to say, it was brilliant. Ethereal, beautiful, awe-inspiring in its absolute creativity.  But more than that, there was something comforting in its strangeness, a feeling that you get only from the best children's books. The mix of naivety and simple, moralistic, but precise knowledge reminded me not only of the way a child can shock an adult by seeing life much more clearly than expected, but also of the feeling of being a child oneself. 
When I was young I never worried about my imagination. I didn't fret about my ideas or the basis of my thought. I could create anything, draw and write whatever I felt, and there was such freedom in that. I would construct characters, their names long and convoluted, with hyphens and accents, just because I could. Version's of myself and my life, but transported and re-imagined. This book bought this feeling back to me. The most memorable and fantastic books like these don't try to be a certain thing or tap into a certain market - they express the joy of being a child. Think of Maurice Sendak's Where The Wild Things Are or In The Night Kitchen (a personal favourite). These are books which transcend time and age. When I was young they were brave and exciting, and now, as an almost-adult, they remind me of my dreams and aspirations, and that someone understood my own strangeness, then and now. 
It also reminded me to keep those feelings as an adult. After I read the book I turned it over in my hands, marvelling at the genius of the author and the mind-blowing illustration. I felt sad. Sad that I couldn't create something so wonderful, when as a child I had felt so much power in my creations. And so I remembered what is really important - to keep trying to do what you love. Maybe what you love isn't a particular job or a position, but it is putting that joy and creativity into whatever you do; remembering your real self.
Maybe I'll try writing a kid's book!